Symposium-Sustainable Development Goals in Food Production
Come and visit us at the Symposium "Sustainable development goals in food production" and discuss with experts, share your own ideas, get inspired by science garden designs of students from the TUM, discover LMU student projects, meet a science journalist.
14.09.2018 11:00 Uhr – 16:00 Uhr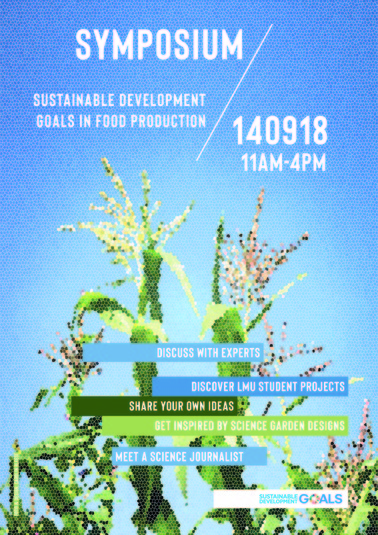 When: 14.09.2018, 11 a.m. - 4 p.m.
Where: Room G00.001, Biozentrum Martinsried,
Grosshaderner Str. 2-4
82152 Martinsried
Schedule:
Morning session: "NITROGEN, ESSENCE OF LIFE AND THREAT FOR HUMANKIND"
Introduction - Martin Parniske, LMU
"SDG 6: clean water: "Impacts and dynamics of nitrogensupply in local lake ecosystems" - Herwig Stibor, LMU
"The nitrogen problem and the obvious solution" - Martin Parniske, LMU
Free Lunch and Open discussion with poster presentations of SDG-related students projects and idea gathering on white boards inspired by green SDGs.
Afternoon session: SDGs AND SCIENCE GARDEN PROJECTS WITH THE TUM
"SDGs at InnovationsGeist" - Laura Janssen, LMU InnovationsGeist
"The LMU science garden designs" - Jonas Bellingrodt, LMU
Coffee and science garden poster session
Award ceremony
SDGs at Biotopia - Michael John Gorman, Biotopia
"Public awarness of SDGs and agricultural challenges" - Kathrin Zinkant, Süddeutsche Zeitung
Please register for free via Email with Dagmar Hann


Contact:
Dr. Dagmar Hann
d.hann@bio.lmu.de